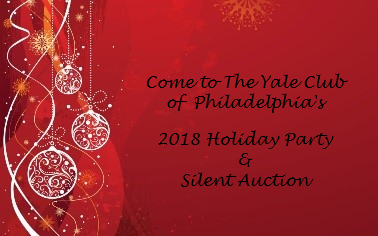 Holiday party and silent auction! 
December 7th | 6:00-8:00pm
Tir Na Nog
1600 Arch Street
Bring in the holiday cheer by joining one of our most popular events of the year! We gather in Tir Na Nog's beautiful vestibule. Tickets are $35-40 depending on graduation year (purchase here) and come with wine, beer, and an array of hors d'oeuvres. Tickets get more expensive as we get closer to the date, so purchase yours today!
As many of you know, one of the highlights of our holiday party is a silent auction, which serves as a significant source of funding for our scholarship programs. Please support our activities by donating (tax deductible) items for our silent auction. You could share season tickets to cultural or sporting events, purchase gift certificates to restaurants, spas or museums, or donate items if you are downsizing or simply want to donate treasures from your attics, garages and closets.
Please contact Merritt A. Cole (mcole@earpcohn.com) regarding items you would like to donate to such a worthy cause.
Many thanks!